The above error indicates your computer and/or network is blocking access to Respondus servers hosted on AWS (Amazon Web Services). Until the block is removed, you will not be permitted to proceed.
If you open LockDown Browser, navigate to a course and don't see the "Help Center" button in the LockDown Browser toolbar, this is further evidence that a block to our servers is in place.
In most cases, the block exists in overly aggressive anti-virus or firewall software running on your computer.
Steps you can take:
1) The time and time zone on the computer you are using may be incorrect. You should ensure that the computer has the correct date/time
and
time zone enabled. The time and time zone *must* be for where the computer is physically located. If accessing a computer that is on-campus, work with your institution's help desk to ensure the computer has the correct date/time specified.
Please visit this site:
https://time.is/

If the report indicates the computer time is far ahead or behind, then it will need to be corrected.
2) The following are the servers that LockDown Browser must have access to. Permitting these in your anti-virus or firewall software might help:
server-profiles-respondus-com.s3-external-1.amazonaws.com
help-center-respondus-com.s3.amazonaws.com
smc-service-cloud.respondus2.com
static-public-downloads-cloud.respondus.com
www.respondus.com
Please contact the manufacturer of your security software in order to determine how to permit domains. Respondus Support cannot assist you with this.
3) If specifying the domains does not help, temporarily relaxing security settings on your anti-virus or firewall software may help. If using Windows, you may also want to temporarily relax settings in Windows Defender.
4) If using a Windows computer, be sure that the TLS 1.2 protocol is enabled. It's common for older Windows 7 operating systems to have this setting disabled.
To check this, go to Control Panel > Network and Internet >Internet Options and select the "advanced" tab. Scroll down in the list and you'll see and entry for TLS 1.2. If not checked, do so and then click "apply" and then "ok".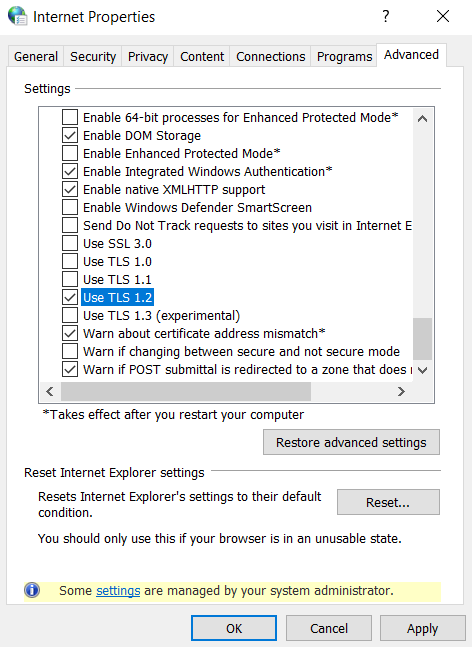 5) If the above steps do not solve the problem, it's possible the block exists in the network you are using. Try using various networks to see if that helps.
Removing a block falls outside the scope of Respondus Technical Support. If the above steps do not help, you will likely need to use a different computer and/or network to take your exam.