When LockDown Browser appears to "freeze", it is commonly due to a dialog box from other applications running in the background appearing underneath the secure LockDown Browser layer or there are corrupted web links, which are blocked.
If the "Student Early Exit" feature has been made available by your instructor, you can exit the exam and provide a reason. Upon exiting, you'll first see this warning:

If you choose to close the browser, you will then be required to provide a reason for exiting the session:

If you have a proctor available, you might consider asking them to enter the "Proctor Exit Password" to close LockDown Browser. This is typically only available when taking the exam in a managed lab.
Other than the above, the only other option is a power down.
Because many systems put the computer into suspension when pressing the power button once, it will likely be necessary for you to force a power down by holding down the power button for 5 to 20 seconds or longer. Usually there is a small "chirp", "click" or "beep" as the local drive heads are locked into transport position and the display discharges during the power down. Keep holding down the power button until the computer completely turns off. Ignore any messages that may appear on your screen during this process.
We recommend the following steps to restore any default settings after a power down. Please _do not_ attempt to remove LockDown Browser or perform any other restore methods before doing the following steps.
1) You can restore your settings after a power down and restart by adding a " /restore" to the LockDown Browser shortcut.
Download and install the latest LockDown Browser application for Windows.
Right click on the "LockDown Browser" desktop shortcut in Windows and select "Properties".
Under the "Shortcut" tab, locate the "Target:" field. At the end of the target address, append the following: /restore (note: there is a space in front of the slash)
Example: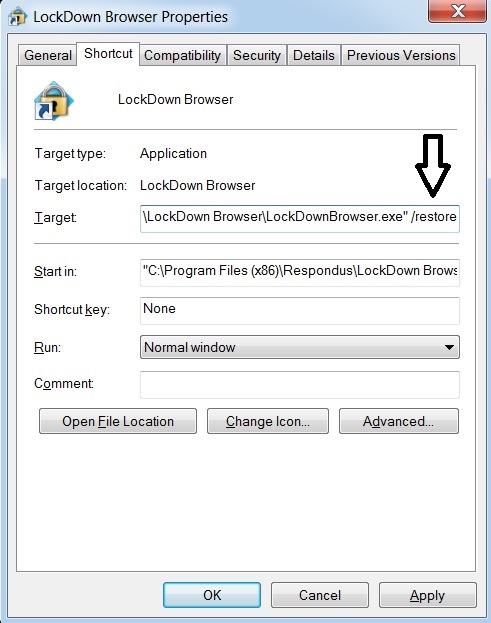 After starting LockDown Browser with the /restore option, you should see a confirmation pop-up window: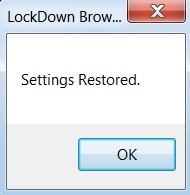 After your settings are restored, be sure to remove the "/restore" from the LockDown Browser shortcut.


2) You can also restore the default settings on your computer by following these steps:

a) Start the system from a power down (not suspension).
b) Start LockDown Browser and let it navigate to the institution's login page. A login is not necessary.
c) Once you're at the login page, shut down LockDown Browser.
d) Log out of the Windows user account (do not use Windows Restart)
e) Log back into the Windows user account


3) If you have LockDown Browser - Mac, you can restore the default settings on your computer by following these steps:
a) Force a shut down of your Mac by holding down the power button. If using a Mac with no physical power button, hold down the Touch ID for six seconds to force a shut down.
b) Restart your Mac.
c) Start LockDown Browser and let it navigate to the institution's login page. A login is not necessary.
d) Once you're at the login page, shut down LockDown Browser