In our testing, we have found that Windows Speech Recognition can have difficulty identifying what is said. To help improve the speech recognition, we recommend using a headset with a microphone.
How to start Speech Recognition:
Press Windows Start button and type "Control Panel" and select the first search result.
Go to "Ease of Access" > "Speech Recognition" > "Start Speech Recognition"
How to use:
After starting Speech Recognition, an overlay will appear at the top of the screen.
Select the microphone button to make the Speech Recognition hear your voice. Deselect the microphone button to ensure the software is not listening for commands.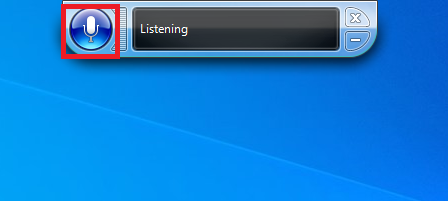 After clicking the button, you can enter text into text fields by speaking. This functionality will continue to work after opening Respondus LockDown Browser.
Note: Currently the text editor does not permit the Windows Speech Recognition's voice-to-text feature to work on essay type questions in Canvas and Blackboard. This is a known issue outside of LockDown Browser.