Cookies and Cache saved in your Chrome browser can sometimes cause interference when using LockDown Browser for Chromebook. We recommend you do the following:

1) Clear out problematic cookies using the built-in utility found in LockDown Browser for Chromebook.

First, if you have the ability to install/uninstall extensions on your Chromebook, try toggling the LockDown Browser extension off, then back on. This action can help clear out problematic cookies.
Next, "pin" the LockDown Browser extension to the Chrome toolbar.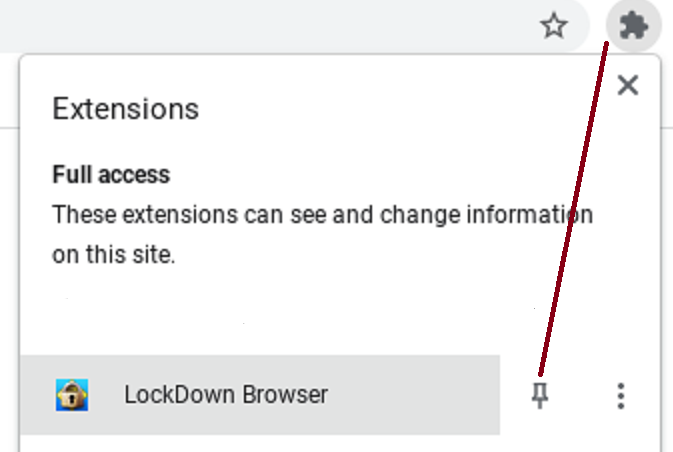 Next, click on the pinned extension, and a select group of cookies will be deleted.
This method does not delete all cookies on the Chromebook.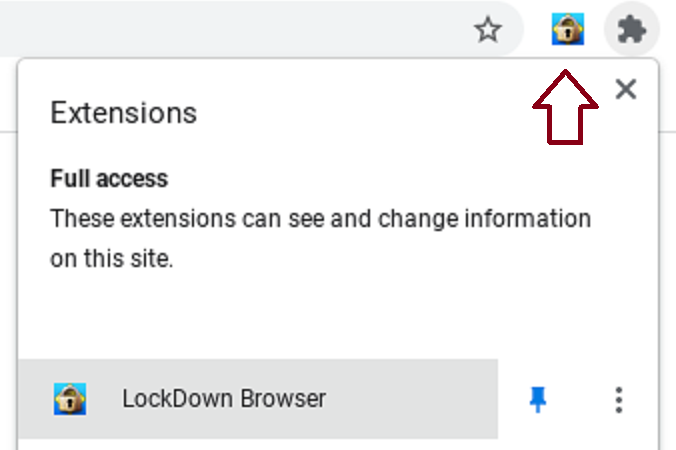 Clicking on that icon will produce the below window. Click "clear cookies" to proceed.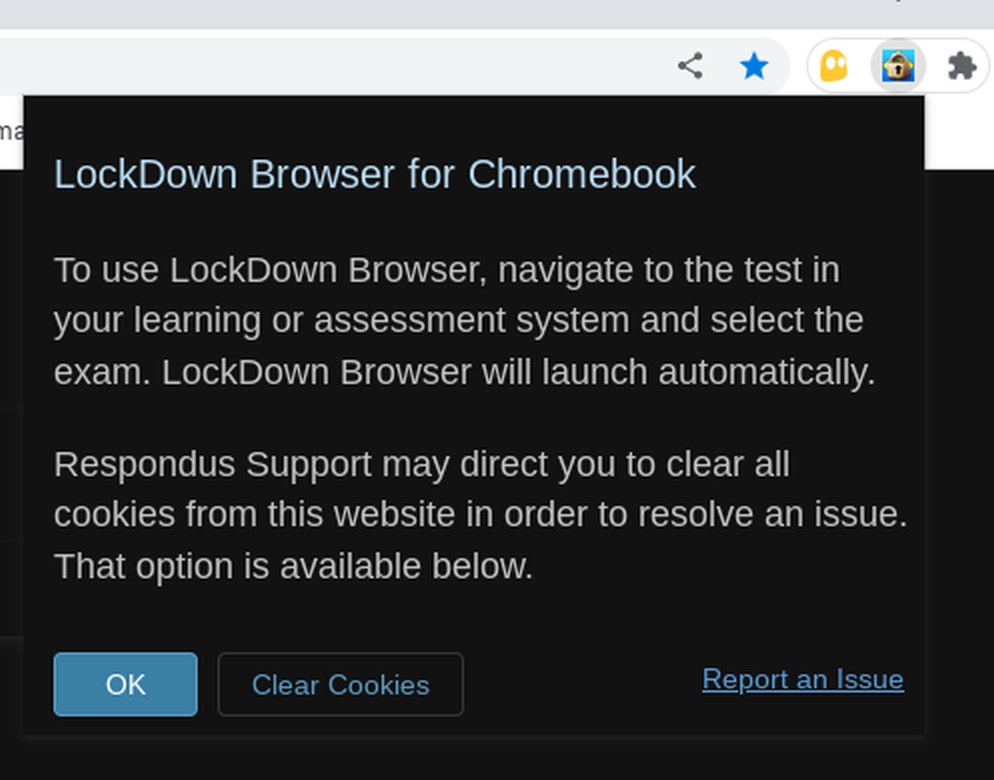 In most cases, using the built-in utility will resolve the problem, and you should be able to take your exam.

2) If necessary, you can also use the below three steps to clear our all cookies and cache on your Chromebook.

a) Enter the following in the URL address bar in Chrome: Chrome://settings/clearBrowserData
b) Select "All time" for Time Range
c) Select "Cookies and other site data," then click the "clear data" button.

3) If necessary, also clear all site data:

a) Enter the following in the URL address bar in Chrome: chrome://settings/siteData
b) Click the "Remove All" button to delete all leftover cookies and site data. A pop-up window may appear, asking you to confirm. Click the "clear all" button in this pop-up.
c) Restart your Chromebook, then log into your Learning Management System and navigate first to your course, then to the relevant content area and try to take your quiz.

If the problem persists with your exam, it's likely that the above steps did not sufficiently clear out the cache/cookies, and so we recommend you install and use a separate "cookie cleaner" extension. Our testing shows these extensions typically work better at the task of cleaning out cookies and cache. One example would be CyberGhost Cookie Cleaner: https://chrome.google.com/webstore/detail/cyberghost-cookie-cleaner/pbkgifljdgkhlmlmgbalmcknbhbggmei

Once installed, you'd want to open the CyberGhost extension, choose the "browser" tab, and select all three options, as shown below. Then click the "clear browser" button. Once done, you'll need to log back in to your Learning Management System and attempt your exam again.