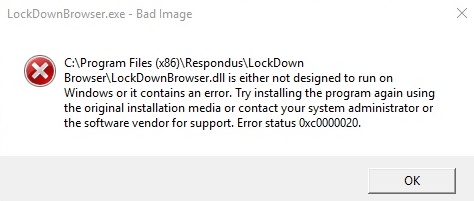 If you receive the above error when starting LockDown Browser, it's likely because of over aggressive security software wrongly determining that LockDown Browser is a threat. As a result, the startup of LockDown Browser is interfered with, and the installation of LockDown Browser may even be corrupted.
We recommend the following steps:
1) Uninstall LockDown Browser from your computer.
2) Reinstall LockDown Browser using a copy of the installer downloaded from your institution's unique LockDown Browser download URL.
3) Make sure you only have one major anti-virus security software program installed on your computer.
4) In the one anti-virus program (if any) be sure to permit "lockdownbrowser.exe" to run.